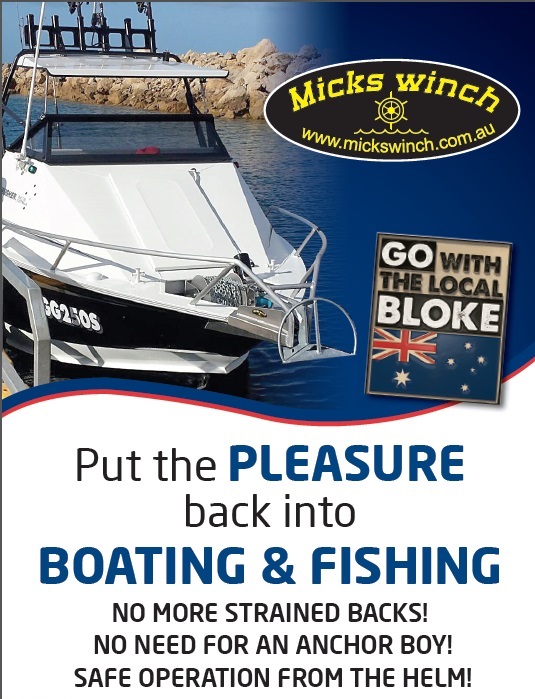 Still Hand built by Mick since 2007 …South Australia…Mobile installations available (same day) Adelaide metro and country regions

Mick Winch drum anchor winches "Surpasses all the others in Quality" we supply Adelaide,Canberra,Brisbane,Darwin,Hobart,Perth.Melbourne,Sydney and anywhere in between.. PH. 0422 339 350
MICKS WINCHES are made from Sandvik 316L Stainless steel… Quality Management
Sandvik Materials Technology consistently meets customers' expectations and requirements for all products and services. We secure the product and material properties throughout the manufacturing processes by using the optimum starting material, advanced production technologies and the most rigorous quality control. This is enabled by our fully integrated production technologies and in-depth experience in the development and manufacture of materials for demanding environments. Our quality management systems are approved by internationally recognized organizations. Sandvik Materials Technology holds, for example, the ASME Quality Systems Certificate as a materials organization, approval to ISO 9001, ISO/TS 16949, ISO 17025, and PED 97/23/EC, as well as product approvals from TÜV, JIS and Lloyd's Register.


Due to no Australian manufacture of winch motors or corrosive resistant gearboxes we only use Genuine Quality Italian drive components on your Micks Winch…Real Italian Marine Motors with Real Grunt and Real Power real rpms , And Quality solenoids From The UK with the highest recognized certification Lloyds of London the most respected in the marine industry..
In Australia any test lab will take your money to get a certificate done but the highest and most respected is the lloyds approved a trusted body when it comes to certification.
" We Dont import replica solenoids or motors from china hide them underneath covers over rate the wattage's eg.260watt=400watt 400 watt=800watt 600watt= 1000 watt and so on,cheap winches on the market still import cheap components such as solenoids and motors from china and big warranty's are not much good to you when it fails on the water.not to mention the headache in awaiting parts and removing the winch from your boat
There are many kinds of Italian gearboxes on the market that look similar to ours from bonifiglioli to Motorvario ,Varvel to Transtechno,we have been offered these units but refuse to use them as we prefer to use what has worked the best for us.
The maximum wattage of a permanent magnet motor with two wires is 800 watts,Above this wattage it becomes a series wound motor that uses 3 wires and has field coils instead of magnets.we have both kinds.
Still not sure or a little confused about wattage on a winch motor ? please just ask your local auto electrician for independent advice, dont just follow the sheep..
Higher wattage motors will not make a drum winch turn any faster its the ratio of the gearbox and the RPM of a quality Italian marine motor that does all the work,and of course the amount of diameter of rope on the drum some models of free fall winches still wind up at the same speed but the speed on deployment depends on the weight of the anchor or electronic gadgets to speed up slow rpm motors